Musicians clock up another success for church funds
A concert given by the U3A Inspired Instrumentalists on July 15th, with guests Lee Everett, swing singer, and instrumental quartet "The Dotted Crotchets" attracted a highly enthusiastic audience of about 120, and raised more than £830 for church funds.
Three very different styles of music combined in one spectacular evening's entertainment!
The 'orchestra' started the programme with an arrangement of Leroy Anderson's The Syncopated Clock and other music for the evening included Autumn Leaves, Alexander's Rag-time Band, The Liberty Bell March, See the Conquering Hero, Cum Dederit (which was used in the James Bond film "Spectre") and Finlandia. 
Among the new pieces played in this concert was the Echo March, written many years ago by teacher and Inspired Instrumentalists' recorder player, Sidney Earl. Originally set for three recorder parts and intended for children to play, the piece had been specially adapted for the orchestra by Musical Director, Tony Tournoff.
As usual for the Instrumentalists, audience participation was very much a part of the evening and lots of 'toy' instruments were distributed for people to shake, tap or blow during The Toy Symphony; flying actions were encouraged during The Dambusters March and singing was an essential in Yellow Bird and Rule Britannia!
Lee Everett, entertaining with swing classics such as Let There Be Love, Mack the Knife, Save the Last Dance for Me and New York, New York,  provided more opportunities for the audience to join in during his slots in the first and second halves.
The first half also saw instrumental quartet "The Dotted Crotchets" entertain with some more jazz-like favourites. Paul (trumpet), Peter (saxophone), Ted (trombone) and Bill (double bass) are all members of the Inspired Instrumentalists, but have established their own group to play this different style of music, much to the delight of the audience.
​​ Children's Art Competition ​​

A competition to design a St. Botolph's Church card attracted entries from younger visitors to our St. Botolph's Day Fair on June 17th, with Penny, Tilly, Caroline and Lucy being winners in the three age categories (Under 5s, 5-8 year olds, and 8-12 year olds).
Visitors to the Fair cast votes to decide the winner in each age group.
The weather on the day was so good that the children were able to work outside in the church garden and look at the building or use photographs for inspiration and the vast majority of entries were pictures of the church or architectural details. Caroline, however, took a different view of the 'brief' and her beautiful angel received much praise, even from visitors who voted Lucy's picture as the best in the 8-12 category.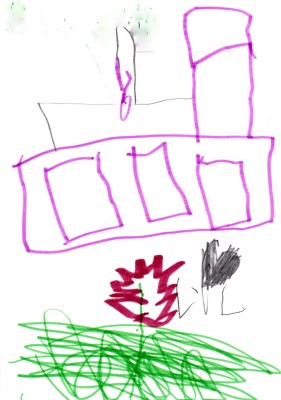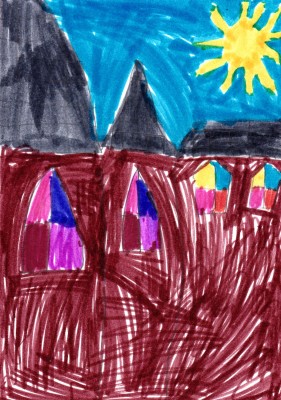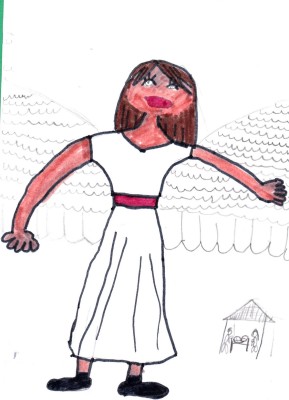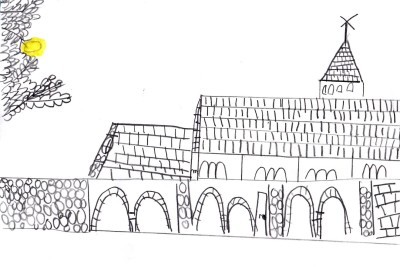 Left to right: The winning entries: Penny, aged 4 (under 5s); Tilly, aged 7 (5-8 yr. olds); Caroline, 8; Lucy, 8 (8-12 yr. olds).

FUNDRAISING EVENTS SET TICKET-SALES RECORDS

Many of our social events at St. Botolph's are not ticketed, but tickets for our Victorian Games Evening in February  and the Quiz Night in January - were sold out more than a week in advance of each event. Between them, they brought more than 100 people into the church and raised £800 for repairs and maintenance expenses.
​
​

This website - http://stbotolphsheene2015.com - is the only official website for our church and gives details of everything you need to know about our services, the building work which is currently being carried out, and forthcoming events. The 2015 in the title refers to the year in which the Church Commissioners agreed that our church could stay open for public worship!
Unfortunately, however, we have become aware of other sites which have been using stbotolphsheene at the start of their web addresses and purporting to be associated with us.  
​The Diocese has been informed about the main offending website and is looking into this, but we would ask for your help too. If you find any website which begins with the words stbotolphsheene but ends with .org or .net, please be aware that this is nothing to do with us!

We have found many websites giving the incorrect web address for St. Botolph's Church, Heene and also quoting an out of date telephone number and/or incorrect postcode. If you come across one of these, please do report it if you can. If you find you are unable to do so, please send details to the churchwardens: churchwardens@virginmedia.com or the publicity co-ordinator: jackie.didymus@virginmedia.com so that they can try to take any necessary action.